Closets and wardrobes are not merely containers for clothing and shoes anymore. Closets form part of a home's décor and reflect the personality of the people who live in the house.We all want beauty, comfort and functionality because, in this day and age, we want to have everything all-in-one. Sometimes, finding space to hang a dressing mirror is mission impossible, but this pull-out mirror puts an end to that problem!
Space-saver accessory: pull-out mirror
Today, we are presenting an essential accessory, very practical and appreciated by the clients that IBMH manages in China, and just for you. Practically at any price and quality level you choose. Below, we provide all the necessary information about this functional and profitable accessory.
The pull-out mirror is a durable, customizable and very user-friendly item.
Takes up very little space inside the closet
Very simple installation
Adapts to all types of closet doors
Available in a variety of measurements for all sizes of doors and mirrors
With or without frame
Plastic or aluminum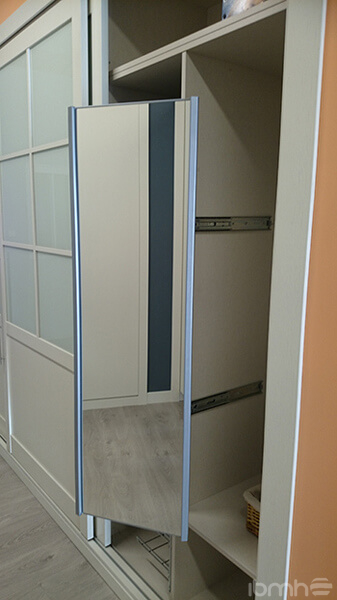 The versatility of the pull-out mirror
We can say that this is one of the space-saving accessories that offers the most possible combinations. The pull-out mirror is an item that meets the needs of all sorts of customers.
It has a structure attached to the mirror which, in turn, is attached to a series of guides connected to the closet. The possibilities are endless because it allows for different types of:
Mirrors (sizes and shapes)
Structures
Pull-out systems
All of these combinations help to personalize the closet even more and offer exactly what the customer needs.
IBMH, leader in Hardware Purchase Management in China, welcomes you to an unprecedented business opportunity. Expand your catalogue with this pull-out mirror and offer a unique, customizable and space-saving accessory.