Door level handle, rosettes, door thumb turn, and keyhole are some of the most used hardware manufacturers use today. Today we come to tell you what are the latest additions to our range of models of handles with plate for any door.  What would it mean to incorporate it into your hardware catalog with IBMH? What are their technical characteristics and why are they pieces of such high quality? We'll tell you everything.
Door level handle, rosettes, door thumb turn, IBMH's door hardware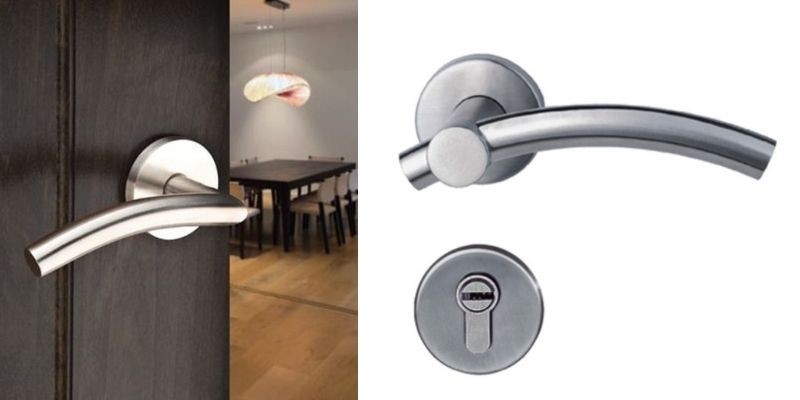 Both modern and classic doors have one thing in common: their versatility, durability and variety of designs. At IBMH we already had a range of door level handle, rosettes and door locks that we have now expanded. Choosing the ones you're going to incorporate into your catalog to meet your customers' demand has never been easier.
Door handles are designed for remodeling projects and for newly built ones. They have a modern finish of the highest quality. With this door hardware, end customers will be able to choose according to their taste and needs and you can import them from China thanks to IBMH's professional management.
The technical characteristics of door handles, our new star hardware
The materials, parts and components of the door handles are a key element of any door, whatever style and design you have. That's why at IBMH we offer you the best in locksmithing.
They are made of the highest quality stainless steel. All the wooden door handles, cranks and bolts you'll find at IBMH are ideal for all types of environments. From residential use to high-end hotels, businesses and factories.
On the other hand, you should know that in our range not only wooden door handles are available. In addition, you will find solid levers made of alloy in which you can define geometries or straight lines more or less pronounced to the customer's liking.
In all parts it is possible to obtain different finishes. For example, the old or shiny brass, a coppery red, white or black finish. They can be customized according to requirements. You can apply a shielding effect. Or a protective lacquer that provides special resistance against adverse atmospheric conditions.
These are really strong handles with high durability. They also provide an excellent image. And a classy distinguished touch to the whole of the door on which they are installed.
Why import door hardware with IBMH
Firstly, because the door handles of the suppliers we work with are of high quality. Secondly, because they meet the expectations of all customers. And, thirdly, because they are durable hardware with different finishes that can be used on any door.
Whether you're looking for a tubular or a hollow handle. Whether you prefer a solid body handle or need those that include the mounting plate, you'll find it at IBMH. Now we offer you a wider variety. A renewed range, with which you can make the best decision of the type of handle to use without risk to be wrong.
IBMH has been working in China for many years. That's why we know exactly the suppliers of door hardware that manufacture with the best materials. Our comprehensive Quality Control in China allows us to make sure that the hardware matches the one that was initially requested and so we let our customers know.
If you want to incorporate door handles into your hardware catalog and that IBMH also takes care of all the management of your imports of furniture hardware and construction from China, do not think about it anymore and contact us today!